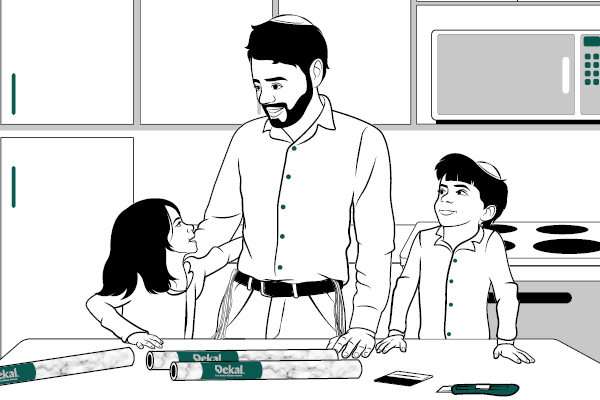 Dekal is a delightfully easy product to use.
Before You Begin
Clean the counter of dust and grease and dry completely
Tools needed:
All you need are a few minutes and a few household essentials to Pesach prep your counters!
Scissors
Pencil or Pen
Tape measure
OPTIONAL: Applicator Kit with Smoother and Cutter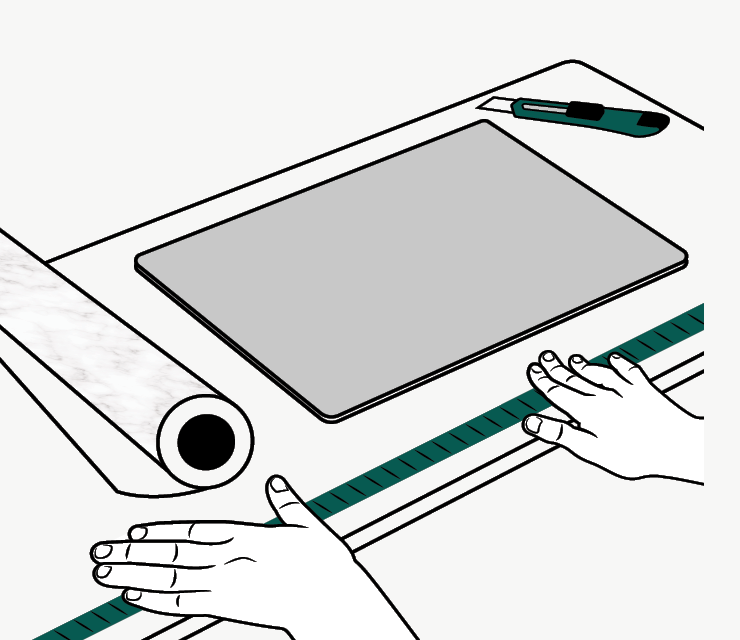 Measure
Measure the counter plus lip and factor in a little excess of around ¼ inch. Transfer the measurements to the grid on the back of Dekal, marking where you need to cut.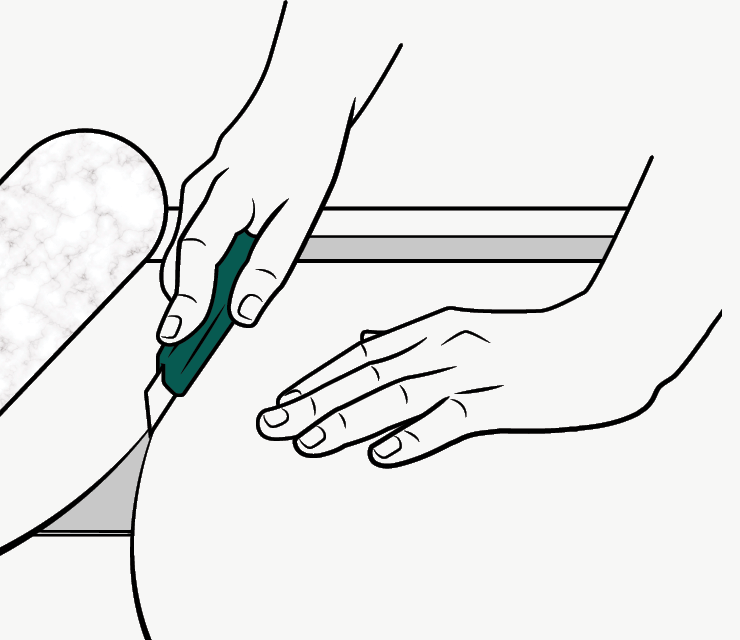 Cut
Cut Dekal to size using scissors or a box cutter.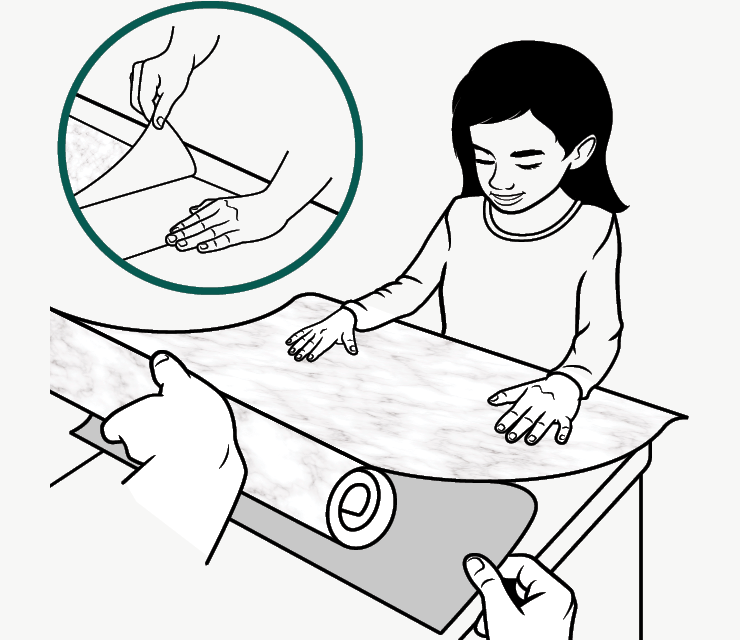 Peel
Peel off part of the backing paper and apply Dekal to an edge.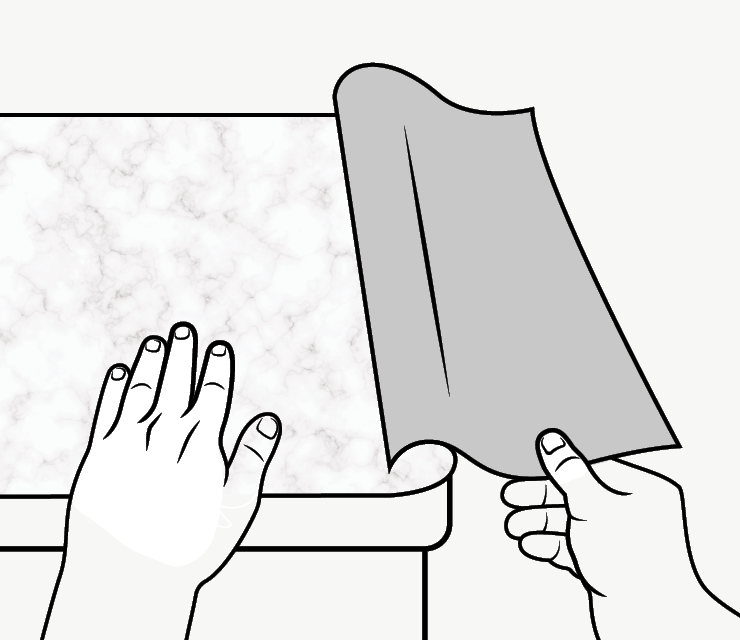 Apply
Slowly peel back the rest of the backing, pressing Dekal onto the surface a little bit at a time. Use two hands to stretch it as much as possible, keeping it flat and straight to avoid bubbles.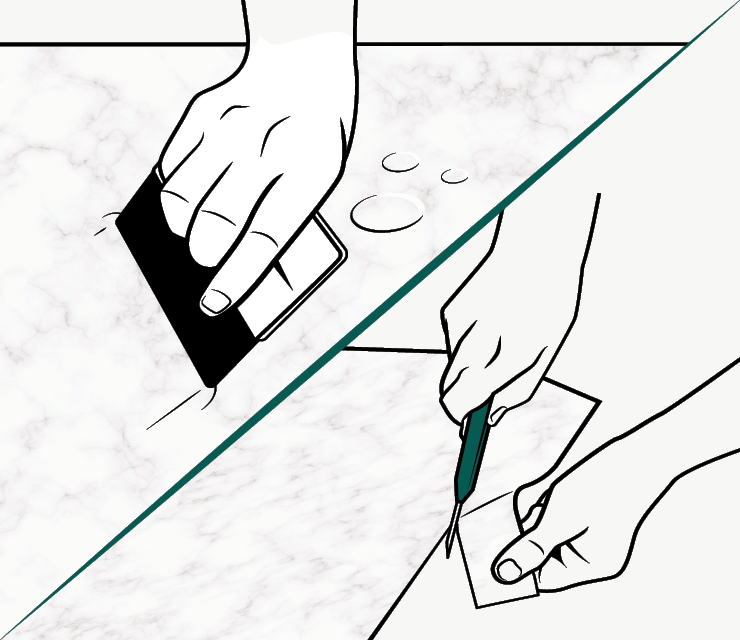 Use Applicator Kit
Smooth out any air bubbles with the Smoother from the Applicator Kit and trim any excess Dekal with the Cutter.
Buy Kit Here
Tips and Tricks
How should I prep my counters for application?
No extensive prep is required to apply Dekal, but counters should be smooth and free of dust and grease. Simply wipe down the surface and dry completely before application.
How do I cut Dekal precisely to size?
Measure the surface to be covered and, using the handy grid on the back of the liner, mark with a pen where you need to cut. For exact edges, always factor in a little excess of around ¼ inches and trim to size with a cutter at the end. 
If I need more than one sheet to cover my surface, should I overlap the Dekal?
Dekal works on any shape or size countertop. If you need more than one piece to cover an area, simply put one piece of Dekal next to another vertically. No water, oil, or dirt will seep underneath the seam.
Oops! I applied Dekal but it's not where I want it!
Not a problem. Since the full adhesive strength of Dekal only takes effect after a few hours, you can carefully remove the liner and reapply where you need it.
How can I avoid air bubbles when applying Dekal?
To start, Dekal's new formula stops most air bubbles before they form! However, you can be extra cautious by starting to apply with an edge and laying down Dekal inch by inch. Any air bubbles that form can be easily smoothed out using the smoother tool from our applicator kit. 
Can I apply Dekal to round edges?
Yes, of course! You can simply pull it around the edge you need to cover. For extra pliability, you can gently heat Dekal with a hair dryer on the lowest setting and move it where it needs to be.